Now you can play golf anywhere! Introducing one of the greatest golf training aids ever invented.. Birdie Ball, winner of the Best New Product award at the United States PGA Golf Expo.
Although the Birdie Ball looks like a napkin ring, it feels, sounds and flies like a real golf ball, yet only travels about 40 metres depending on the club the golfer uses.
One Of The Best Golf Training Aids Ever – The Birdie Ball In Action..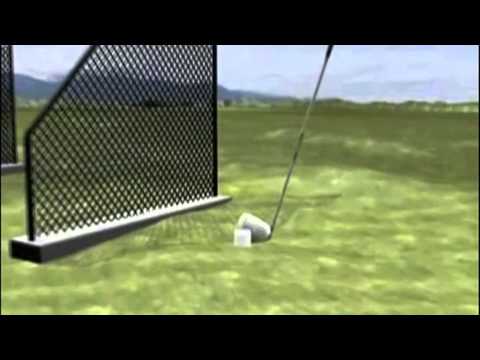 The Birdie Ball allows  beginners to learn the game in the privacy of their own backyards, while accomplished golfers can hone their shotmaking skills and get accurate feedback on swing mechanics in a limited space.
The product allows users to practice high shots, low shots, hooks and fades, which makes this unique piece of golfing equipment one of the most valuable golf training aids any keen golfer is likely to get their hands on.

Inflatable Air Target

Another fantastic golf training aid, is the Inflatable Air Target, which has a detachable sign that can be used to create a promotional presence for your brand and will attract a lot of attention.
All you have to do is plug the target into the power, watch it automatically inflate, attach your signage, and you have instant golf fun.
With four holes running down the 'green' and bunkers located on either side of the most difficult hole, you determine the number of points scored for each of the four coloured holes and away you go.
The Inflatable Air Target can be used indoors and outdoors and makes an ideal fund raising or short game challenge activity. It is also ideal to use as a conference break up activity and will get everyone involved, including the non golfers.
Golf lessons Adelaide uses both of these golf training aids, the Birdie Ball and Inflatable Air Target, as part of it's junior development program and the kids can't get enough of it.
Golf Training Aids – Find Out More

Call Jon White today on 0405 354 276 to find out more. Remember, the Birdie Ball and Air Target can be used safely indoors and outdoors and is people and window friendly. The combination of these two golf training aids could certainly be the wisest investment any golfer could make.
See you on the Fairway!
Jon White